Q1.Once you finished registration and you cannot make it to the expo and pick up your race pack
♦Please note that home delivery service is only serving in Taiwan local only!!!
You can choose one of the following methods to pay for the delivery service fee
A、Pay in person at the CTRRA office
B、Transfer the money to the bank account indicated below
Delivery Service Charge (Orders cannot be combined)
NTD$100/Person
Account Name: Chinese Taipei Road Running Association
Bank: E.SUN BANK Minquan Branch
Bank Code:808
Account Number:0598-940-015-850
Please click on the following link and fill out the form after you transferred the fee
Q2.How to apply for the receipt?
Please click on the following link and fill out the form
Q3.How to check registration information?
Please click on the following link
Q4.How to get the size changed for the windbreaker?
For full marathon participant, If you want to change your windbreaker size please contact us prior Oct. 15 5pm.
Q5.Cancellation Policy
Those who wish to cancel their registration, please see below for more info:
Please fill out the application form and notify Chinese Taipei Road Running Association through phone before October 31st at 5PM. Your refund application will be accepted should there be no conflicts. Refund amount will be 80% of the original payment. If remittance was chosen as payment method, another NT$30 will be deducted as transaction fee. No late application will be accepted.
Q6.Storage bag restriction
Participants must use the red storage bag as below or similar type of the bag.(example as below)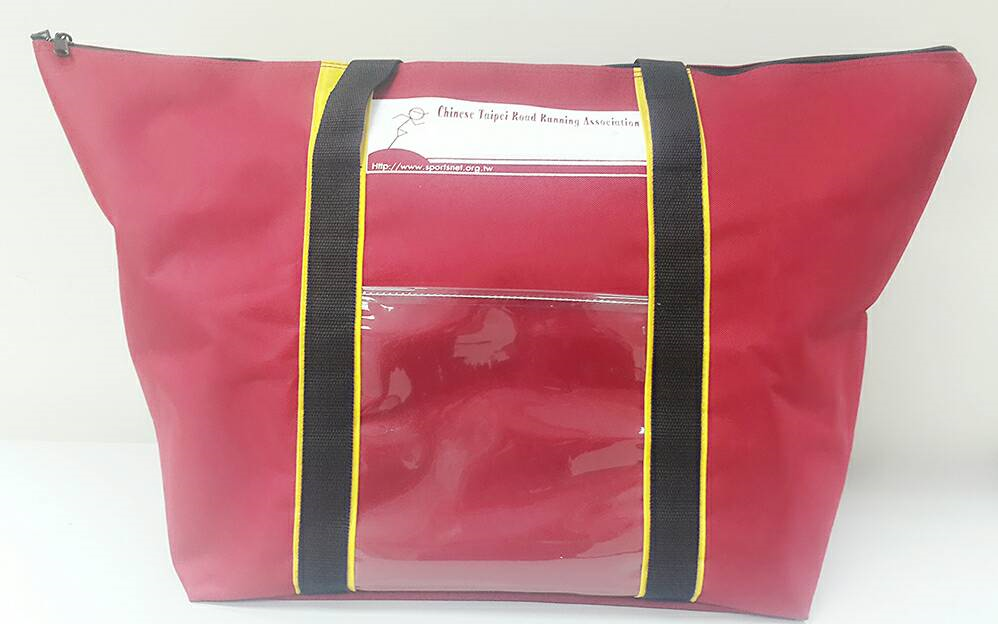 Q7.Where to purchase the Storage bag?
Storage bag can be purchased on the event day at the event venue or you can purchase it at the expo.
Q8.Special notice for bag storage service
The Personal belongings bags can be checked in on race day (December 15, 2019) beginning at 05:00am. Use your racing bib number to retrieve your personal belongings bag. All bags must be checked out before 12:30pm. (Please store all valuable personal belongings in a secure place. The event organizers shall not be responsible for the loss of any personal items). Give yourself plenty of time to check in your personal belongings bag so as not to affect your race start preparations.
Q9.Where and how to pick up the race pack?
Personal check-in prior to race day
1. Schedule:December 12th & 13th, 2019, from 13:00pm to 20:00pm ; December 14th, 2019, 11:00am to 18:00pm
2. Place:Taipei Expo Park – EXPO Dome No.1, Yumen St., Zhongshan Dist., Taipei
♦A packet pick-up notice will be sent to you by email from the CTRRA one week beforehand. Please have the receipt number ready with you.
♦If you are unable to personally check-in and pick up your race package, you may entrust someone in writing to pick up your package for you. The trustee will have to provide the pick-up notice number and your ID number, as well as his/her ID for inspection.
♦If you have not received your email pick-up notice from CTRRA, then you can retrieve it from the on the CTRRA website by searching from Registration Inquiry. You may also bring your ID with you when retrieving your race package.
♦If you are unable to collect the packet in person and have not entrusted anyone to do on above mentioned dates, you will not be able to participate in the race. Registration packet (without finisher's gift bag) will be available to be collected at CTRRA (Room 206, 2/F, No.55, Changji St., Datong District, Taipei City) again within the week after race day from December 16th to 20th, 2019 (08:30 – 12:00 ; 13:30 – 17:30). No reservation is available and late comers shall not be accepted.)
Q10.When will you be receiving the race pack if you chose postal service?
Mailing of Race Packet by Postal Service(please indicate during registration). Also, please note that this service is provided only within Taiwan and a postal fee must be paid as part of the registration.
♦The CTRRA will mail the race packet by post to those who requested to receive it in the mail from December 5th -December 10th, 2019, at the address indicated during registration. Please be sure to provide correct mailing address in order to avoid any chance of a wrong delivery.
♦If the packet is unable to be delivered due to an improper address or nobody was able to sign for its receipt upon delivery thereby resulting in the participant being unable to take part in the event, the package will not be re-sent, but the participant may pick up the packet contents at the CTRRA office in the following week after the race (December 16th to 20th, 2019) during working hours (Monday to Friday from 8:30am to 12:00 Noon and 13:30pm to 17:30pm). After this period, the packet will be discarded.
♦Please note the additional postal fee: NT$100 per person
♦Once you have received your race packet in the mail, your check-in procedure has been completed. Please arrive at the race start on December 15th, 2019 as scheduled.
►No pick-up of packet (or check-in) on the day of race event.
►All entrants who have not reported to pick-up their race package shall be withdrawn from the race.
►If you were unable to retrieve your race package and take part in the race, you can still pick up your race package from the CTRRA office during working hours from December 16th to 20th, 2019.